Homework... For what it's Worth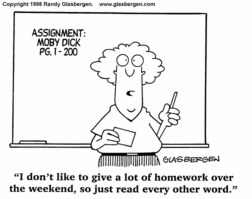 Nobody generally likes to get homework. I never really cared much for it when I was in school, but I still did it, because I didn't want to get a bad grade.

What's the purpose of it though?

For me, I look at it as a follow-up to any lesson or topic we've been studying. It may be further practice, or it may be additional reference. It may ask the student to use knowledge gained from the discussion in the classroom, and sometimes it plainly asks the student to use the procedures practiced in class and utilize them away from the classroom.

There is only so much time in the classroom to cover the material. I generally have about 45 to 60 minutes for each subject in a given school day. Some days we review previous lessons, correct assignments, or dive into new topics. This takes up a majority of the time.

I do, however, usually give 5 to 10 minutes of class time to work on the assignment before they leave the room. I can honestly say though that many students do not try to get as much done as possible before they leave or before we move on.

I have always been one to suggest also that students do their homework right when they get home. Why? Well, in a logical sense, the material will be fresh in their minds, and they will be able to recall what we discussed in class better. If they wait until later evening, they will not be able to recall as much of the discussion, and the assignment will take more time.

It is also policy in my school that students in a grade do not receive more than their grade level x 10 minutes of homework per night. So, since I teach sixth grade, they shouldn't receive more than 60 minutes of homework. If I had to estimate, I would say that I give about 20-30 minutes per night, but I try not to give any on the weekends.

I do believe that homework is important, and allows the student to further enhance their education, when time is a factor.